The Cultivate App by CloudMJ, built on the Salesforce App Cloud, brings the world's #1 on-demand platform to the regulated cannabis industry.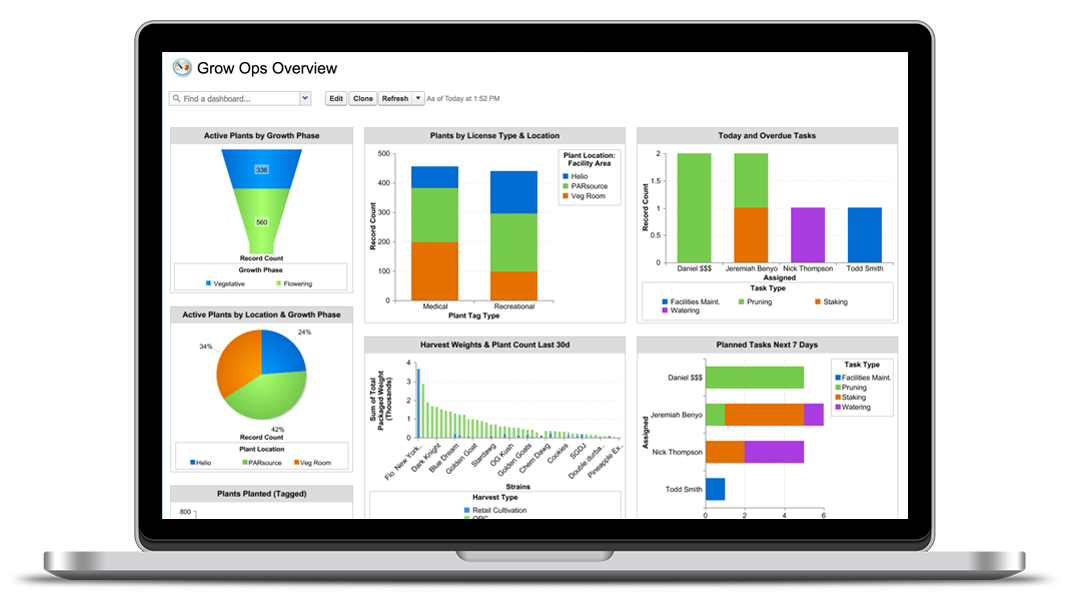 Capture key data and drive efficiency across your cannabis operation with CloudMJ.
Cloud Based Platform
Nothing is more important to CloudMJ than the privacy of our customers' data.  This is why Cultivate is built on the Salesforce App Cloud, a platform so secure, that fortune 500 companies around the globe trust it to manage their operations.  Cloud-based means that you can use Cultivate with any device that has internet access. No Server/IT infrastructure needed!
Compliance
With the ability to track all data related to your grow and/or processing operation, such as Facilities, Strains, Plants, Plant Locations, Growth Phase, Harvests, Test Results, Packaging, Shipments and more, Cultivate can help with your compliance needs.
Customer & Order Management
Cultivate offers users the ability to manage and log activity with all accounts and contacts that your company does business with, in order to always have a complete picture of your customer.  While your sales reps are onsite with a customer, they can quickly check Cultivate to see available product inventory, then submit orders directly to your grow or manufacturing operations for fulfillment.
Prescriptive Task Management
Allow users to assign work and track individual productivity for numerous tasks types such as feeding, spraying, manicuring or trimming. Task completion can automatically trigger other tasks to be created for any user, to ensure operational flow!
Growers
For Growers – Cultivate allows you to track operations across multiple facilities in a single application. Looking up plant inventory, strain & harvest forecasting, employee productivity, expenses and more, is just the beginning.  Barcode scanning, mass data updates, .csv exports of data to update your compliance systems are all supported.  Growth and spray formulas can also be created and applied to plants in the system so that all plant activity is accounted for.  You can view a complete history by simply scanning a plant tag, or forecast strain yields across multiple grow facilities at the tap of your finger!
Processors
For Processors – Cultivate gives you the ability to track the entire manufacturing lifecycle, including the purchase of raw materials, creating extracts from plant materials, assembling products and fulfilling orders. Managing your production line as well as your inventory has never been easier!
Workflow
Get notified via mobile or email when any records are updated in the system, such as completing a harvest, destroying a plant, or when plant sample test results are logged.  Easily create automated task schedules to be assigned throughout your grow or processing lifecycle.
Time Cards
Our custom Time Card engine allows you to track time for employees across multiple roles. Payouts can be customized to be based on time spent, or quantity of product produced (ex. Trimmers).
Customizable UI
With a drag and drop editor, you can easily customize the User Interface for both desktop and mobile versions of Cultivate to quickly access the data that is most important to you.
Automated Reports
Set schedules to receive emailed reports and dashboards so that you never miss important updates to your operational data.
Monitoring
With robust field history tracking and our built-in social collaboration app, you will never lose track of user interaction with your plants. Easily post files or pictures from your mobile device to the plant, harvest, room, purchased raw materials, or any other record in the system!
Data Security
Don't want your trimmers to edit any data in the system other than the tasks assigned to them? No problem! Custom roles and profiles allow you to ensure only certain data is accessible by specific users.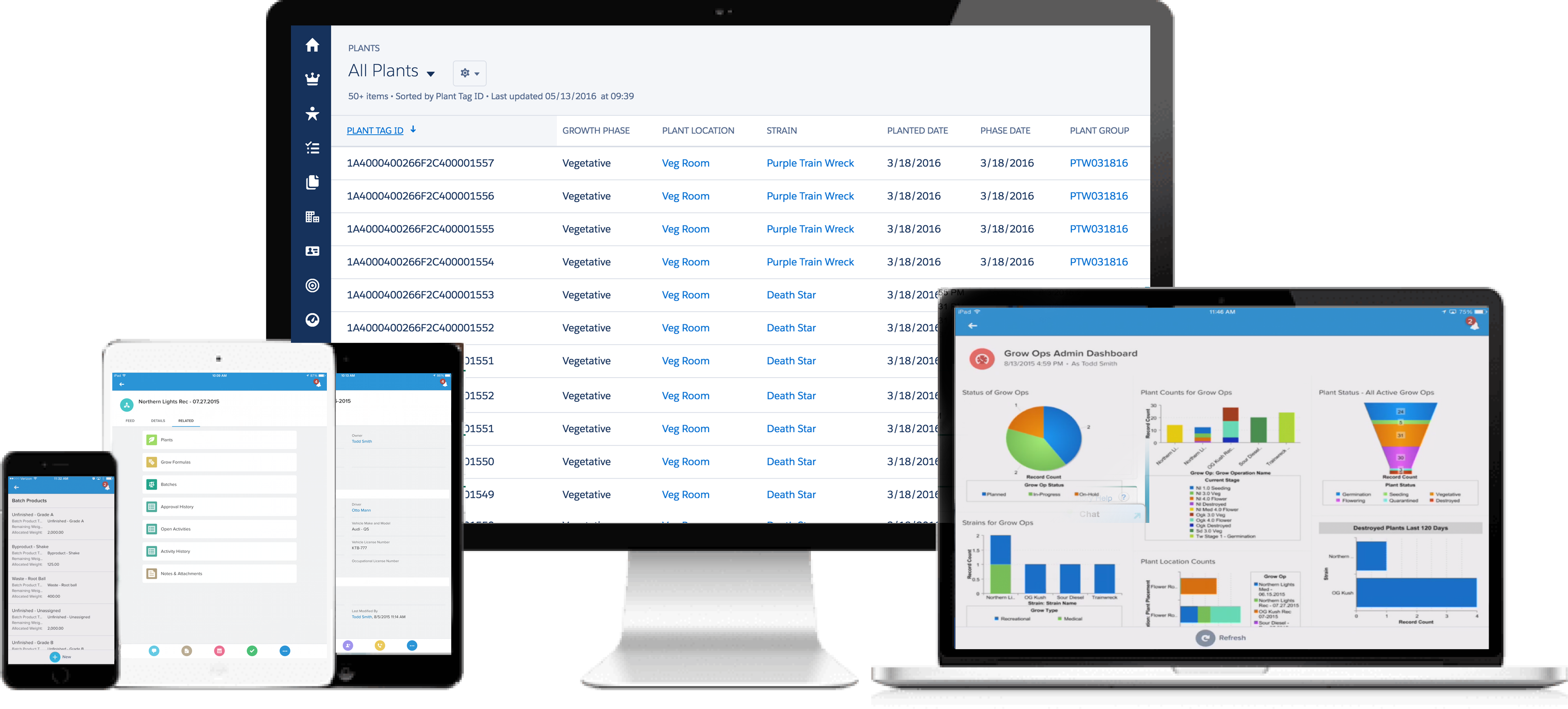 Get work done on any device
CloudMJ apps run on laptops, desktops, smartphones and tablets.
Strategic relationship with the leader in business cloud computing
Cultivate is now available on the Salesforce AppExchange. CloudMJ's application suite empowers regulated cannabis businesses to connect with their customers, partners and employees in entirely new ways.



Our connections in the industry