CloudMJ's out of the box Salesforce & Metrc integration brings the world's #1 on-demand platform to the regulated cannabis industry.
POWERFUL TOOLS
Capture key data and drive efficiency across your cannabis operation with CloudMJ.

Cloud Based Platform
CloudMJ is built on Salesforce, the most trusted and secure platform in the world. Access CloudMJ to collaborate with your team from anywhere, on any device.

Metrc Integration
Sync Metrc data to CloudMJ for your sales & operations staff to report and take action. Your sales teams will always have the most accurate Metrc package inventory to reference when submitting orders to your facilities.

Customer & Order Management
Utilize a full suite of account management tools and make sure your customer relationships are top priority. Unlimited tier-based products & price books allow your sales teams to have the most relevant pricing for the accounts that they manage.

Prescriptive Task Management
Users in CloudMJ can assign work and track individual productivity for operational tasks such as grow ops, sales, and order fulfillment activities.

Automated Reports
Set schedules to receive emailed reports and dashboards so that you never miss important updates to your operational data.

Monitoring
Track changes to your customers, orders, and even integrated Metrc data for system audits.
.

Collaboration
Post updates, files or pictures from your mobile device to your customer records, orders, or any Metrc data in synced to CloudMJ.

Data Security
Control the access your teams have with information in CloudMJ, and display only the data that is relevant to their job.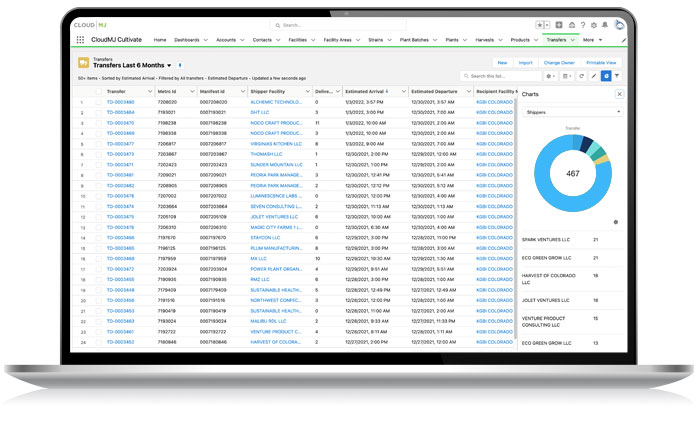 Workflow
Receive notifications or trigger business processes based on any data synchronized from Metrc. Set up notifications for harvests based on benchmark thresholds, or trigger tasks for your staff to calibrate equipment. The possibilities are endless.
Get work done on any device
CloudMJ apps run on laptops, desktops, smartphones and tablets.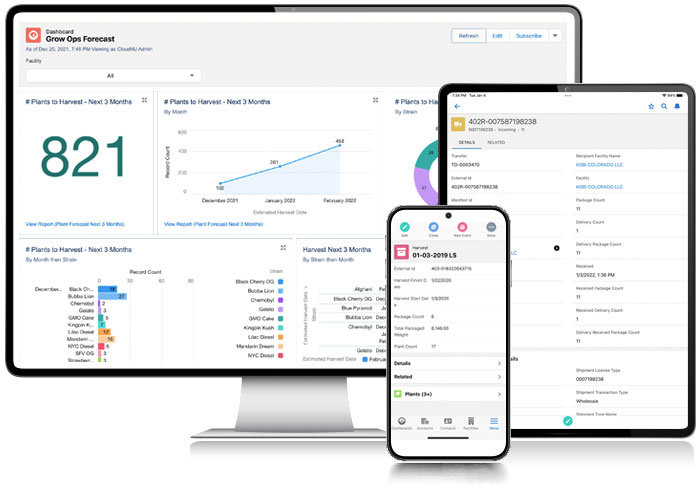 Strategic relationship with the leader in business cloud computing
Cultivate is now available on the Salesforce AppExchange. CloudMJ's application suite empowers regulated cannabis businesses to connect with their customers, partners and employees in entirely new ways.